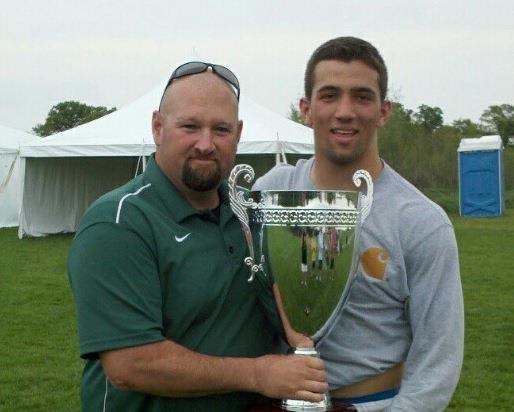 Thomas T. Cleary: I Am Ohio Rugby
The Ohio Rugby landscape is full of some of the greatest minds and players to come out of the state, and even the Midwest. Many of those minds and talents are on the field today. Some have hung up their playing shorts and are bringing up the next crop of great players that will represent the state, the Midwest and maybe even the USA. One such person is Thomas Cleary. He is a former Kent State University player, a current coach at Saint Edwards High School and he is Ohio Rugby.

Cleary's rugby career began 25 years ago, in a distant time called the 90s. It was a simpler time back then, and Cleary was playing for Kent State University.
"I started playing lock in the beginning," Cleary said. "But after about three games I was moved to tight head prop, where I played for the rest of my rugby career."
According to Cleary he made some cameos at hooker and eight man when the need arose. When he got short on wind, Cleary kept the wings company and allowed the play to develop before returning to the heat of battle.
As he recalls it, Cleary has had a few defining moments that have stuck with him throughout his illustrious career. One set of memories involve an enemy. Another involves a special set of teammates.
"As a player I would say being on the first, and only, team at Kent State to ever beat Bowling Green [is one of the high marks of my playing career] and it occurred in two consecutive seasons," Cleary said. "I also had the opportunity to play rugby for Columbus-Fort Benning, in Columbus, Georgia, with a team comprised of Army Rangers and civilians. To play alongside men who were serving our country was a great honor and some of the best men I have ever had the privilege to play alongside."
Cleary didn't stop after his time down South. Recently, Cleary has been spotted in company of one of the most successful teams in the state, the Cleveland Rovers. Cleary played with the Cleveland men's side as they made their way to a Midwest Championship and a berth at Nationals.
"It was something I'll never forget," he said. Cleary can still be found prowling the sidelines of Rovers' home matches, cheering on his comrades as they pursue glory without him.
Before he hung up his boots, Cleary notched up a number of other impressive wins and achievements. In 2002 he traveled up to Saranac Lake in New York to play in the CanAm Rugby Tournament. His team managed to take the tournament that year, but the victory paled in comparison to what else he got from the weekend.
"That was where I met my best friend and my wife Jaime 'Barnes' Cleary," he said. "We met when my friend and I crashed in their hotel room. She later tackled me into a chair and almost broke my ribs when I attempted to get to the shower. It was pain at first sight, I mean love at first sight."
When he's not taking in a Rovers' match on Saturdays or being manhandled by his wife, Cleary can be found at Saint Edward High School. He's supposed to be there. Don't worry. He's the Head Coach of the rugby team at the school. Under his instruction, the team has won Midwest championships as well as back-to-back State championships. During the summers, Cleary crosses enemy lines and teams with Coach Brian Sabolik from Saint Ignatius to form a summer sevens team comprised of players from both schools.
"To be able to coach these boys and help them realize their dreams and achieve a goal in their life is just awesome," Cleary said of his coaching experiences with his high school 15s side. "To stand back and take it all in and watch the boys celebrate is a moment I will always remember… To be able to take two of the biggest rivals in Ohio high school sports, and also two of the best rugby programs in the state, and combine them into one team is just great. I have made so many friends between the players and the parents from both schools. It's just a rewarding experience for me."
The coaching experience is about more than wreaking havoc on the Ohio high school rugby scene or creating all-star sevens squads from some of the state's top high school rugby prospects. According to Cleary, his coaching comes down to the players, their success and their development. Over the course of time players are with Cleary and his coaching staff, not only do they change greatly in their stature but many of them make leaps and bounds in their acumen and skills.
"Everything changes so quickly and you get to be part of their development and growth as a player," he said. "It gives me a sense of pride and satisfaction. Anytime I can be a part of one of my players achieving a goal or dream is something that I take pride in."
There are so many players that have come out of the Saint Edward rugby machine to do great things. Of the many that came to mind, Cleary mentioned Bryan Kean, Luke Markovich, Ian Hildebrandt, Danny Peyton, Jack Walsh, Neil McNamara, Kevin Trickle, Ronan Forrestal, Everret Smith, Rodney Thomas and Jacob Tennant. All of these players have gone on to play with high-level rugby teams like Bowling Green, Ohio State, Miami of Ohio and Notre Dame College. Tennant played with the United States Marines as well.
"All these players, and so many more, have come from the Saint Edward Rugby program and have gone on to do so many great things," Cleary said. "I wish I had the time and space to mention them all."
Whether he is coaching, observing or playing, Cleary is a rugby fanatic; and most of all he is an Ohio rugby fanatic.
"The thing that makes Ohio rugby special is the people involved in running it, the players and the parents and supporters," he said. "There are so many people that donate their time and effort in order to make the league work. From the administrators to the coaches and from the refs to the trainers its amazing the amount of time people put in so that the kids can have a positive experience. In my opinion a way to improve this would be for more people to get involved and experience just how rewarding and fun this all can be."
Thomas Cleary is a lot of things to a lot of people – husband, coach, teammate, drinking buddy, heckler, friend. No matter what he is to people as individuals, one thing is for sure: he is Ohio Rugby.
https://rugbyohio.com/wp-content/uploads/2020/08/TomCleary.jpg
412
514
alex_andrews
https://shared3.sportsmanager.ie/~rugbyohio/wp-content/uploads/2020/08/logo.png
alex_andrews
2014-09-15 11:19:41
2020-08-21 11:24:46
I Am Ohio Rugby - Tom Cleary