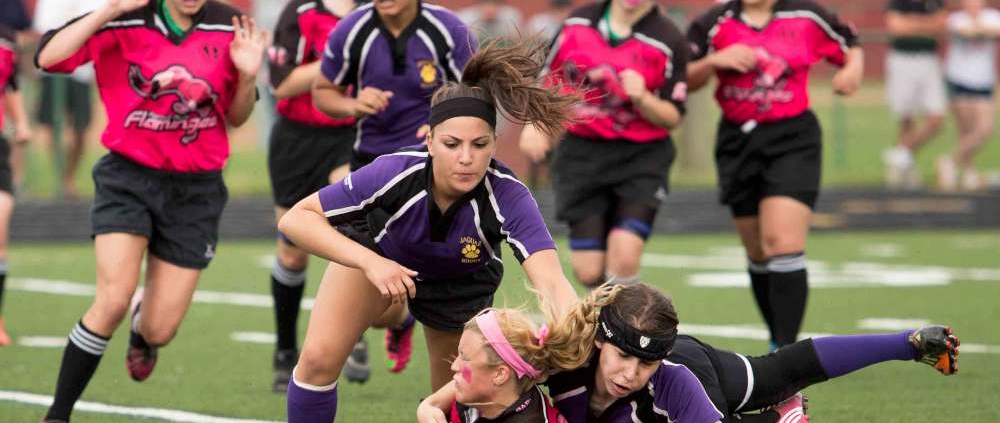 RIVALRY WEEKEND IN COLUMBUS: SAINT JOSEPH V WARSAW PREVIEW
Saint Joseph Academy, out of Cleveland, Ohio, will act as the opening act for a big weekend of rugby taking place on the campus of Ohio State University as they take on top-ranked competition out of Indiana in the form of Warsaw.
The high school girls will kick off the day's slate of competition. The match came about after Jaime Cleary, head coach of the Saint Joseph rugby team, talked with a few Indiana coaches while in Elkhart with the Ohio Elite team over the summer.
"Originally we wanted to have Indiana Elite vs Ohio Elite," Cleary said. "But since Ohio had already won against them at the tournament, and because we would be out of season, the coaches thought it would be good to have the no. 1 team from Indiana, Warsaw, and the no. 1 team from Ohio, Saint Joe's, play for the High School Appreciation Game."
This match will be the first time the two teams have met against one another on the pitch, but if past encounters between the two states' Elite teams are any indication of things to come the advantage is squarely in the corner of the the Cleveland side. Players from Saint Joseph make up a large portion of the Ohio Elite team, which gives them an extra advantage in that the players are used to playing with one another, not only on their select side but in their usual arrangement as well. Don't call this a runaway for Cleary's girls just yet, though. While some of her Elite players are in her potential player pool for the weekend, some other experienced players are not.
" Because we are out of season you will see many Ohio players who also participate in a Fall sports such as soccer, cross country or volleyball on the sidelines," Cleary said. "They are in varsity season for other sports and therefore can not play in this non-league game. Some underclassman will be filling in a few vital spots."
Depending upon where these underclassmen fill in, the substitutions could result in timing on offense being disrupted or positioning in defense being altered; and those are two major elements that go into deciding whether a team comes out on top after the 80th minute or not.
Even though this match is a non-league affair, Cleary and her girls have taken the preparation process leading up to the match very seriously. According to Cleary, they are got in a number of training sessions during the week leading up to the match and even played against the Iron Maidens in order to get back into the swing and feel of live, in-game rugby. She and her girls are going into this weekend with the intention of competing, winning and also enjoying themselves.
"We are going in competitive this weekend but also making it a fun trip," she said. "This will be a fun event for parents to see a high school and then a college women's game, for the players to play a new team and get a tour of the OSU campus and for coaches to see what new talent they can expect for the Spring season."
Since there will be players filling in for teammates involved in other sports, the offense for Saint Joseph's girls has been distilled down a bit for the weekend. According to Cleary, they'll focus on a few key plays but mainly stick with the basics and do what they do best. There's a bit of a learning curve associated with the defensive plan for the weekend, though.
"Defensively, we will be ready for Indiana's style of play, which is 'bridging,'" Cleary said. "Ohio teams don't use this as effectively, so we will be doing review on clearing this blocking technique."
While she plans on how to go over alternative means of getting past this bridging technique, Cleary said the main way they intend to subvert this is not to be on defense very much.
"I predict that our pack will maintain possession and will look for the backs to complete a few plays and quick tries," Cleary said, regarding the gameplan for the weekend. "You may see a few pack players out in the line just for a few fun plays. Nothing says scary like a prop out on the wing."
It is that type of synergy between backs and forwards that Cleary is planning to use to break down Warsaw's defenses. With the combination of using her backs and forwards, and moving some forwards into the back line, Cleary believes her team can score at any point from any point on the field.
"If Indiana doesn't come prepared to tackle, they will be blown through," she said. "We will be punching it up the gut and scoring quick on the wing."
Cleary's roster has a lot of talented girls on it so Warsaw has a lot of weapons to be on the look-out for. One of the team's offensive weapons, Becky Sullivan, will be playing hooker over the weekend and is expected to be running through tackles. Annie Rolf is a proven prop who will likely do her part in the set pieces as well as doing her part when out in the line. Tayler "Chili" Valentine is set to be the anchor of the pack against Warsaw. Cleary is hoping her centers Casi Manuszak and Erin Mcginty will be able to use their chemistry with one another and play off of each other to produce some mid-field magic. Alex Strasser is the team's fullback. According to Cleary, she's a solid asset to the team whether she has the ball in hand or not. Coach Cleary expects Strasser to use her speed and field awareness to get help get her team some big points while using her tackles to deny Warsaw any.
Though she is going into the match this weekend looking for a win, Cleary see this match and others like it as more than a way to earn bragging rights for each team's respective school and state.
"It's great to bring two teams together and play, knowing that it's for learning and for a new challenge," she said. "This would be a great game to look back on and have a bond even before they enter college."
This weekend endeavor isn't just chance to get an early match in against a tough opponent, a chance to get some bragging rights to carry on for a short while. For Cleary, this weekend is a chance for her girls to bond and socialize with some of the top rugby players in their classes and see what top college women's rugby looks like. It is a chance to see where they might, hopefully, play in the future – and even play with some of the Warsaw girls.
The match between Saint Joseph and Warsaw kicks off Saturday, September 20, at 4:00pm. The match will be played on the Fred Beekman Rugby Fields at 2200 Carmack Rd, Columbus, OH 43210.
https://rugbyohio.com/wp-content/uploads/2020/08/D8A6154.jpg
805
1000
alex_andrews
https://shared3.sportsmanager.ie/~rugbyohio/wp-content/uploads/2020/08/logo.png
alex_andrews
2014-09-18 11:25:04
2020-08-21 11:26:45
HS Girls Fall Match: Saint Joseph vs Warsaw