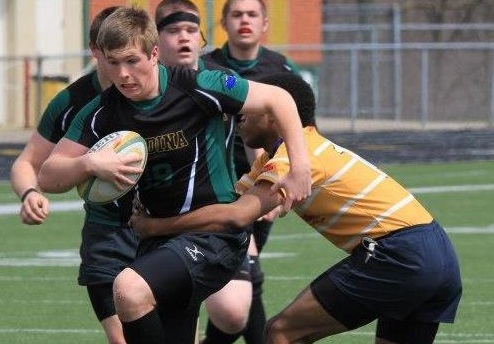 MEDINA CLUB TEAM ENTERING DIFFERENT ERA, SAME EXPECTATIONS TOWARDS WINNING
A willingness to get better sometimes means stepping outside of one's comfort zone. Medina's rugby program might experience this firsthand this spring.
The club team is young, but moved up to Division II-A of the Cleveland South Region. The players, however, seem willing to do what is necessary to get better so Medina can remain competitive even against some top-tier teams.
Their dedication was clear this offseason. Medina sent 25 players to an eight-hour skills camp. There they worked with Paul Emerick, a former member of the USA Eagles national team, Clemson head coach Justin Hickey and Andrew Martin, an international player now serving as the executive director for Rugby Ohio.
"It has proved to be the most beneficial eight hours we have had as a unit," Medina coach Stephen Miller said. "The team was exposed to high-level drills and top-level coaching."
Now the coach, co-coach Bob Meholif and assistant coach Brian Scerca, a former player at Bowling Green State University, hope this translates into wins as Medina pushes for a third trip to the state playoffs.
After going 4-12 the first three seasons, Medina put together a 7-3 record in 2013. It finished the regular season ranked 10th in the Division II state poll and advanced to the state playoffs for the second consecutive year before falling in the regional semifinal to eventual state champ Brunswick.
Medina has since lost six key players to graduation, all of whom are continuing to play the sport at the next level.
Joey Buchtinec, a two-year captain and the team Forward Most Valuable Player, and Cooper Graham, another captain last spring and the team's Back MVP, both are at Notre Dame College. Anthony Selick is playing at Ohio State University.
Brandon Flemming, the 2013 Rookie of the Year, is with the Akron Men's Club. Garrett Lester plays for his Army base team.
"We are not expecting a flawless season but are confident we will grow and get better as the season progresses," Miller said.
Doing so will require leaning on Medina's nine returning players. Leading the way is the team's MVP from last season Grant Morgan.
The All-Ohio fly half is a senior and second-year captain. Not only does he lead Medina's backline, Morgan does all of Medina's kicking duties and is its most versatile player and the program's all-time leading scorer.
Two other returning seniors include inside center Cullen Barelka and flanker Brent Pitz.
Barelka was the recipient of the team's Warrior Award. The captain was an All-Ohio tryout player and selected to the South Rush for a Cause All-Star team.
Previously, Barelka played 8-man.
"He has worked on his fitness and could prove to be a mismatch in the backline this year for opposing teams," Miller said.
Backing them will be returnees Brandon Hudak, a sophomore 8-man, junior forward James Long, sophomore hooker Gabe Baumgartner, sophomore scrum half Nick Wirtz, junior outside center Will Robishaw and junior loosehead prop Jacob Byrnes.
Thirteen other athletes were ready to step in and get some time on the pitch when the season opened March 19 at home against the defending state champ Brunswick, or hit the road March 22 to BGSU against Perrysburg.
Senior newcomers include tighthead prop Greg Phillips, openside flanker Garret Koketko and fullback Cody Heironimus while the juniors include wingers Eric Bischetsrieder and Andre Lechene, plus prop/flanker Kyle Kelly.
From there, Medina's youth kicks in as only six of its 36 players are seniors.
"Our weakness at the beginning will be our general rugby development with a very youthful team," Miller said. "We have had great numbers this offseason, which has helped infuse youth into the program."
https://rugbyohio.com/wp-content/uploads/2020/08/Medina.jpg
344
494
alex_andrews
https://shared3.sportsmanager.ie/~rugbyohio/wp-content/uploads/2020/08/logo.png
alex_andrews
2014-03-19 10:53:35
2020-08-18 11:01:11
Rugby Players Not Easily Scared