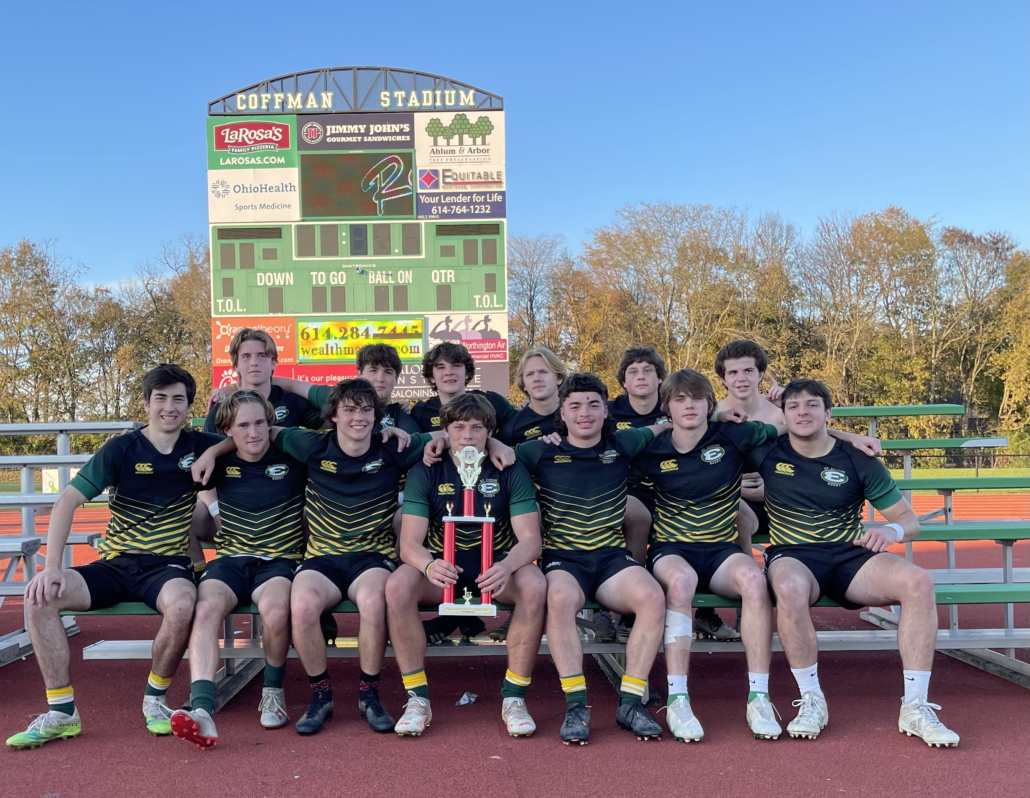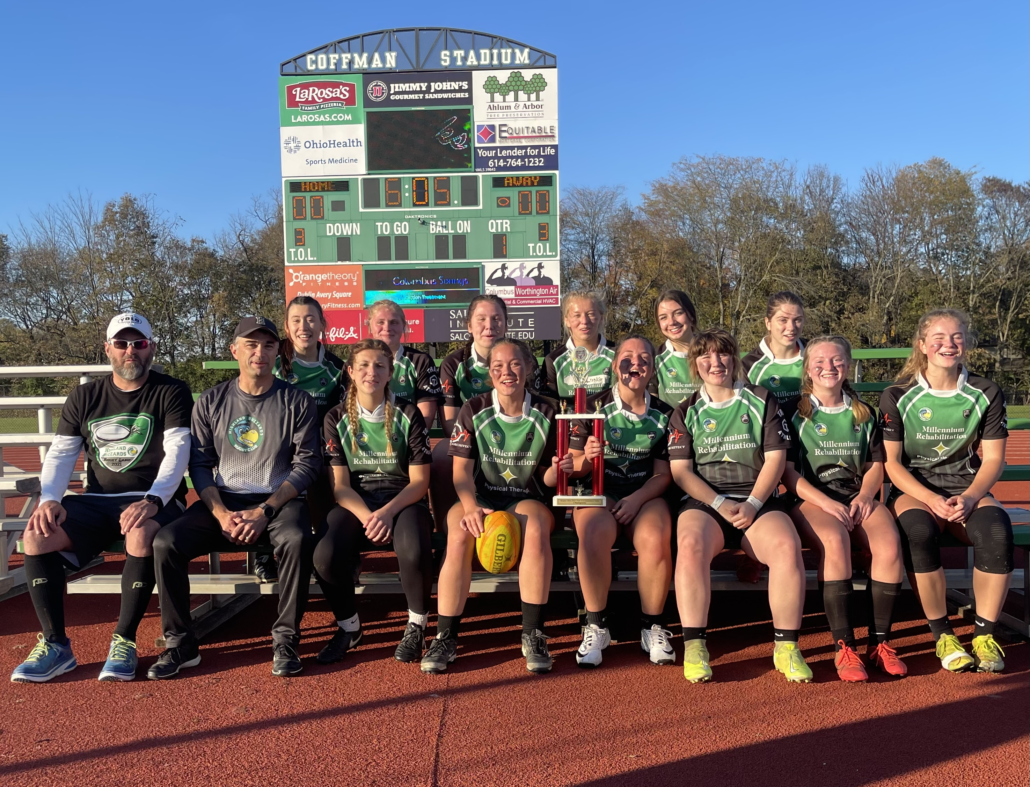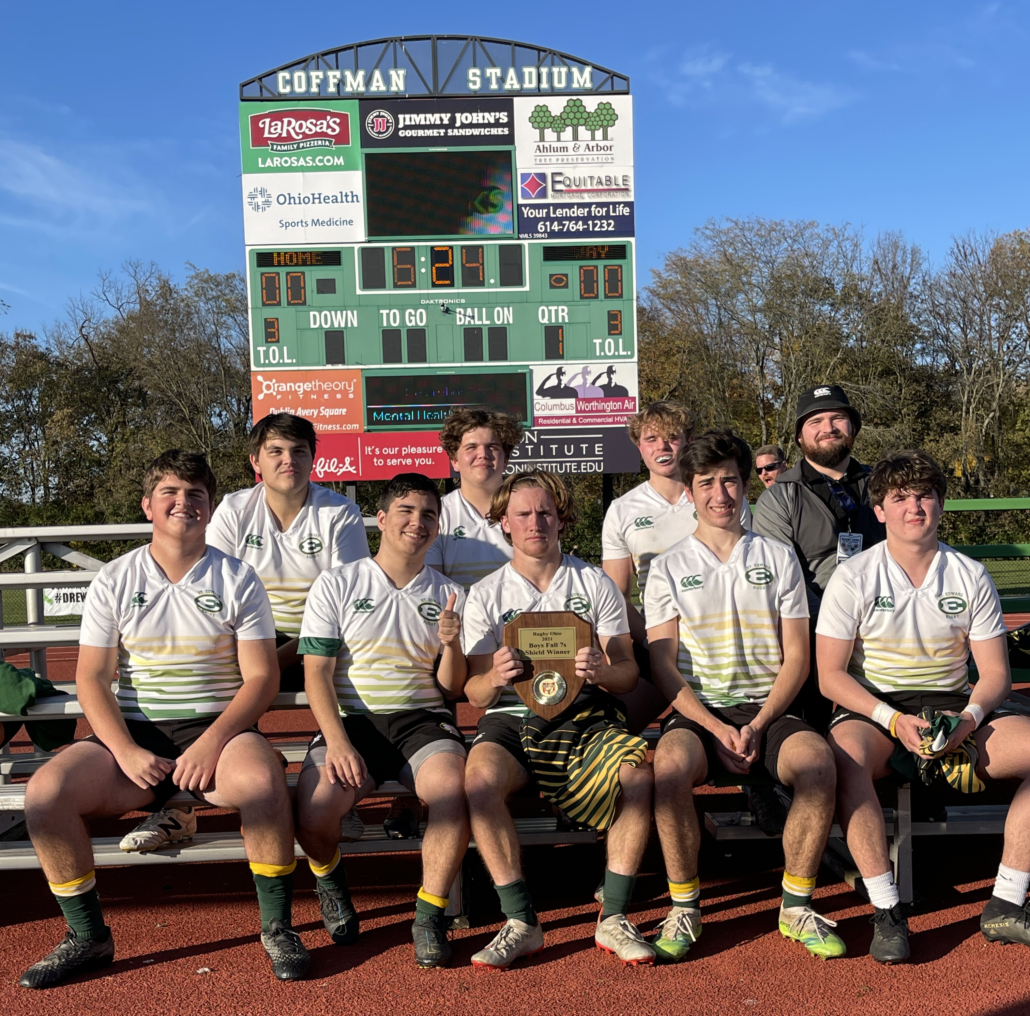 Look out, Westerville!  Here comes Rugby Ohio!  We have a new venue for the Fall 7s Finals.  This year we'll be using four fields at Kilbourne Run Sports Park and are happy to be working with the City of Columbus Department of Recreation and Parks to bring you this last day of the fall season.
All four fields will be filled with games from 10am until some time around 3:30 or 4pm.  There will be 60 games in total and we have 24 teams competing for girls and 24 teams competing for boys.  One of the things we love about the fall is having an even split of boys and girls.
The fall teams played in separate regions for a 5-week regular season.  Now those teams will come together in Columbus and will be competing for four titles.  The top 8 A side teams will play for a Cup and the remaining first sides will play for a Shield.  The same format is used for both boys and girls.  Our JV teams will join in for games on the day and we're excited to see them getting better each week!
Rugby Ohio proudly welcomes the Ohio Army National Guard as our exclusive military partner.  They'll be on site for the day and are providing some swag for our Player of the Match recipients from the four finals.
Thank you to our many, many volunteers across the state who made these great days of fall rugby possible.  Our venues have been pushed to capacity this fall as we've added more than a hundred more players than we've enjoyed before.  Thanks to the Vermillion Soccer Club, St Xavier High School, Dublin Rugby and the City of Dublin and Dayton Rugby for hosting this fall.  Athletic trainers do their best to tend to our players as needed and we thank them for their attention and care.  Amazing photographers have captured the action and shared their work with us – we can all use them to reflect fondly on the season we've just completed.  Parents, coaches and referees – we could not do this without all of you.  Thanks for your dedication and commitment.
We hope you enjoy this final day of the 2022 Fall 7s season!
2022 Fall 7s Finals
Sunday, October 30th, 2022
10am to 4pm
Kilbourne Run Sports Park
4625 Westerville Rd, Columbus, OH 43231
Box Office
Purchase your admission tickets now!  Tickets are available for purchase online or upon arrival at the entrance.  Parking is free.  If you'd like to purchase by credit card, please do so in advance and we'll scan your ticket as you arrive.  We ask that you pay cash on the day to keep the line moving quickly. Wristbands will be provided to all ticket holders.
$10.00 – Adult Ticket
$5.00 – Senior Citizens
$5.00 – Student Ticket (K through 12th grade)
$20.00 – Family Pass (includes two adult and two student tickets)
Free – Children under 5
Food Trucks
We're happy to have Sparks BBQ and Snow Sisters (with their colder weather offerings) back with us for the Fall 7s Finals!

Merchandise
Visit the Rugby Ohio tent to purchase your 2022 Fall 7s Rugby Ohio merchandise.  We've added some new items by popular request!
Tournament T-shirt, $25
Season T-shirt, $25
Knit & Baseball Hats, $30
Sweatshirts, $45
Windbreakers, $45
Duffel Bags, $40
Rugby Ball Keychains & Lanyards, $5
Rugby Ohio stickers, $5
Cash, credit cards & Apple Pay may be used for purchases.
Please note that JV games are scattered between the Cup and Shield fields.  Those teams are playing additional exhibition games as part of the day but those teams are not in the Cup and Shield competitions.
Thank you for your support of all of our players!
Exclusive Military Partner