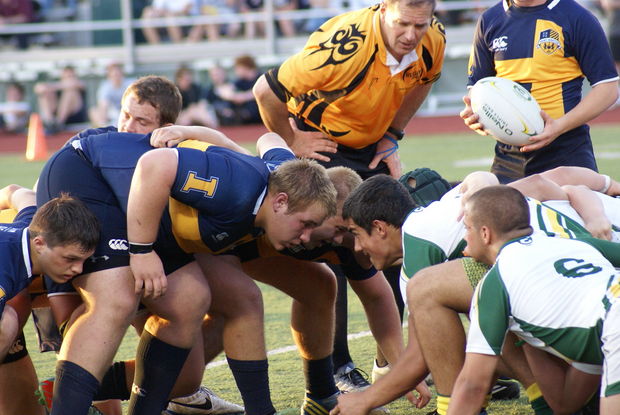 CLEVELAND, Ohio – When St. Joseph Academy girls rugby coach Jaime Cleary traveled to Canada in 2002 to play in a rugby tournament, there were two things she didn't know:
1. She was traveling nine hours to meet her future husband, who, it turned out, lived just two miles away in Lakewood.
2. The couple would eventually be coaching two of the most successful high school rugby programs in Ohio.
On Saturday, Tom and Jaime Cleary can actually bring home four championships. St. Joseph Academy has teams competing in the Division I and II girls state championships while Tom's St. Edward program is trying to capture the double on the boys side.
The Jaguars will face Hudson in the girls Division I final Saturday at 5:45 p.m., followed by the Eagles vs. St. Ignatius in the boys Division I final at 7:30 p.m. The girls and boys Division II finals are at 1 p.m. and 2:45 p.m. All games are at Hudon's Dante Lavelli Stadium.
Tom, in his first year as varsity coach after serving as an assistant since 2006, is trying to lead the Eagles to their third straight Division I title.
"Funny thing about St. Edward is that we have a high turnover rate," said Tom. "We lost 10 players from that first championship team, then we lost nine more last year. But people in this area have done a great job getting the grade school kids involved. Now kids are getting to high school with a background. It's very beneficial."
Jaime has coached at St. Joseph since the program's beginning in 2007. She is trying to win her third Division I title in the last four years. Last season, the Jaguars became the first Ohio program to sweep the divisions. It's a feat both St. Edward and St. Joseph could accomplish this season.
"We have great support here. We're really lucky," said Jaime. "Rugby is a varsity sport here. The kids get a letter, go to a banquet. That's big. Not all schools are like that. Plus, we've had great players each year. We graduate 10 seniors this year, but we have 19 juniors to take their spots."
The Jaguars went 6-0 in the four-team Division I. They beat Parma, 51-0, in the state semifinals. Key players for the Jaguars this season include sophomore Rachael Kean, seniors Ali DeCrane, Grace Mullen and Katie Basalla, junior Jackie Harter and freshman Anne Rolf.
The Eagles (12-4) beat Hudson, 33-5, in the state semifinals to force the finals matchup with St. Ignatius.
Key players for the Eagles this season include junior Ryan Bradfield, seniors Joe Ginley and Brian Luke and sophomores Zach Heisterkamp and Matt Harders.
Division II state championships
The Toledo Junior Celtics are keeping Saturday's finals from being an all-Northeast Ohio event. Toledo faces St. Edward B in the Division I final. St. Joseph's B team plays Brunswick in the girls Division I final. (Note: Division II features many junior varsity teams.)
Rolf family looking for sweep
Freshman Anne Rolf of St. Joseph and senior Frank Rolf of St. Ignatius will both be competing for Division I state titles Saturday.
Frank is a three-year starter for the Wildcats, and Anne has become a key player in her first year with the Jaguars.
"My first choice (at St. Ignatius) was baseball, but when I didn't make the team, I turned to rugby," said Frank. "I'm glad I got cut."
Anne was a common sight at Frank's games, and when she reached high school, rugby was an obvious choice.
"I did a summer camp at St. Joe's. That was the only time I ever played (before high school)," said Anne. "I'm still learning a lot as I go, but thanks to watching my brother play, I've already learned a lot."
The rivalry
St. Ignatius and St. Edward have a storied history of sport rivalries. Rugby seems to fit right in.
The Eagles eliminated the Wildcats in the state semifinals the last two years. The Eagles were ranked No. 1 in the state before the Wildcats got a last-second penalty kick from Aedan Mangan for a 20-19 win May 8.
The Wildcats grabbed the top spot in the final state poll, followed by the Eagles. Both teams are ranked in the top 15 nationally.
St. Ignatius beat Cincinnati Moeller, 25-12, in its state semifinal. Moeller was runner-up to the Eagles the last two seasons.
"It's one of those games where you address (the rivalry) with the kids and try to focus on not letting it turn into an emotional thing," said Tom Cleary. "No matter what happens, you still have to play for 60 minutes. You try to keep them focus, but what are you going to do when it's that big of a rivalry?"
Semifinal recap
While St. Joseph girls won in a rout over Parma, Hudson edged Lakewood, 18-17, to reach Saturday's final.
In boys Division II, St. Edward B beat Springfield, 21-12, while Toledo handled Brunswick, 35-10.
In girls Division II, Brunswick beat Highland, 12-10, and St. Joseph beat Amherst, 43-0, to reach the final.
Contact high school sports reporter Scott Patsko by email (spatsko@cleveland.com) or Twitter (@ScottPatsko). Or log in and leave a message in the comments section below.
https://rugbyohio.com/wp-content/uploads/2020/08/Eds_Iggy_2.jpeg
415
620
alex_andrews
https://shared3.sportsmanager.ie/~rugbyohio/wp-content/uploads/2020/08/logo.png
alex_andrews
2014-05-30 14:52:13
2020-08-18 15:04:06
Storylines to Follow for the Ohio High School Rugby State Championships