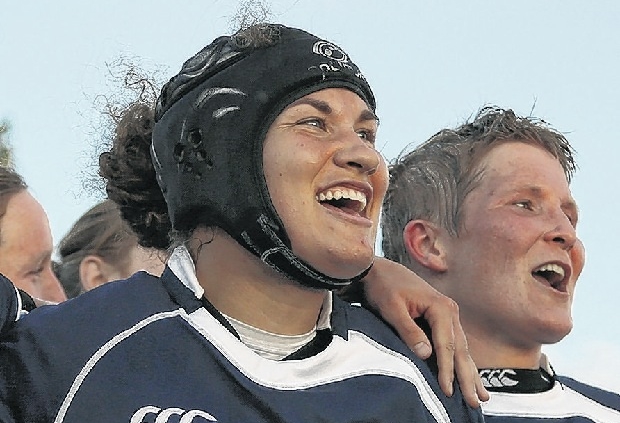 WILSON TO PLAY IN WOMEN'S RUGBY WORLD CUP!
While schoolmates opted to participate in sports with less contact, Sarah Wilson decided to tackle one that's much more physical. Upon the urging of a friend, Wilson began playing rugby during her junior year at Westerville North High School as a member of the Worthington girls rugby club.
That decision paved the way for the 2003 North graduate to play the sport at Ohio State and worldwide. She will compete for the United States in the 12-team Women's Rugby World Cup scheduled for Aug. 1-17 in Paris. Wilson was introduced to the sport nationally before her senior year at North, when she received an invitation to compete for the U.S. Under-19 team.
"They had a tryout camp and that was my first exposure that this was something bigger than just local," said Wilson, who played soccer at North. "When you're in Westerville and the sport is not that huge — it's not soccer, it's not football — you don't really know where it can go, but the underage camps are the avenue to get young players into elite level rugby and let them learn about what it could be."
Wilson, 29, earned a spot on the 26-player USA Women's Eagles World Cup team through three matches played in the United Kingdom from June 28-July 6. "I am honored and excited to have been selected to play for Team USA at the World Cup," Wilson said. "Playing at the World Cup has been a dream of mine for many years and I am so excited to take the field with my teammates."
Team USA played Canada in a two-game Can-Am series in April in British Columbia, losing 51-7 and 14-10. "I have known Sarah since she was a freshman at Ohio State," Eagles coach Peter Steinberg said. "It is great to see her, 10 years later, fulfill her dream.
She is an outstanding athlete and a great teammate and someone that will be an important member of the team in Paris." Wilson plays 15-on-15 rugby. The 2016 Summer Olympics in Rio de Janeiro will include the other type of the sport: 7-on-7 competition. Wilson played in the back row early in her career, but steadily moved to the front and now is a front-row player — a move she favors since most of the physical action takes place in the front.
"I didn't transition to the front row until 2005," Wilson said. "I started out playing number 8, which is at the back of the scrum, and then worked my way up." After graduating from Ohio State in 2007, Wilson took two years off from the sport before resuming her career in 2009 with the Scioto Valley women's rugby team in Columbus and later that year when she moved to Christchurch, New Zealand. In 2011 after moving to Denver, she again became serious in the sport, joining the Glendale Raptors rugby team. She is a business services representative with Boulder County in Colorado.
"There's a pretty good club out here that I play for in Glendale," Wilson said. "They have great facilities, so I moved out to play for them. It was the quality of rugby and I wanted to try something different. Some of my former teammates had come out here, so I thought I might as well give it a shot. I love it out here." Now, she has reached the pinnacle of her sport: the World Cup. "For me, this is the summit, this is the top of the peak," she said. "It's huge to think about. It's so exciting."
https://rugbyohio.com/wp-content/uploads/2020/08/Sarah-Wilson3.jpg
591
620
alex_andrews
https://shared3.sportsmanager.ie/~rugbyohio/wp-content/uploads/2020/08/logo.png
alex_andrews
2014-07-28 10:23:57
2020-08-21 10:27:13
Sarah Wilson to play for USA at Women's World Cup!